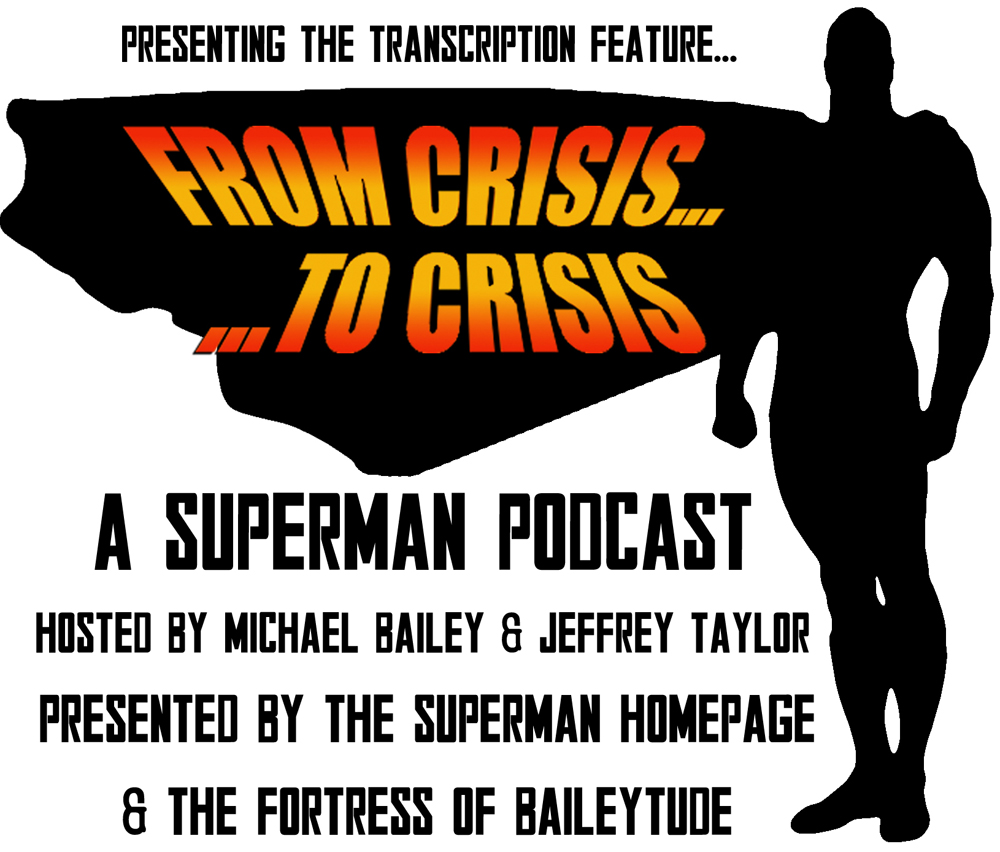 Episode 159: February 1994 Part 1
Welcome to the one hundred and fifty-ninth episode of From Crisis to Crisis: A Superman Podcast! This podcast has a simple premise; examine just about every Superman comic published between Man of Steel #1 in 1986 to Adventures of Superman #649 in 2006 in an informative and hopefully entertaining format.
Part index. Part commentary. Part history lesson. All podcast.
This time out Mike and Jeff kick off the Superman books with a February 1994 cover date in fine style! First, in Superman: The Man of Steel #30 they not only discuss an epic fight between Lobo and Superman but they also talk about the strangest cover enhancement of all. Then in Superman #86 the Man of Steel is lost in space and runs across an age old conflict that has a sad but dramatic end. Finally the boys hop into a cab, pay their $6.50 and tell you what was going on in the real world in a segment called Meanwhile, At The Daily Planet!
Hey, everyone!  Mike here with a little something extra for you.  As is mentioned above Jeff and I spend a portion of this episode talking about the two covers to Superman: The Man of Steel #30.  The standard cover is featured above but the collector's edition cover is…a bit different.  Normally variant covers in the nineties had holograms or were chromium or some such thing but this cover was extremely unique and, of all things, interactive.  The comic came sealed in a bag and had vinyl clings (because Colorforms is trademarked don't you know) attached to a piece of cardboard.  The idea was that you could design your own cover.  Here is what the front and back of my copy looks like in the bag.
I took my comic out of the bag (because that's how I roll) and as you can see through the plastic had some fun by designing several different options for Superman and Lobo's fight.  Here is what the front of the book looks like sans acid filled bag.
Notice Jimmy and Lois hanging out on the globe and Clark getting surprised by two aliens as he changes into Superman
I would be remiss if I didn't share what the back of the cover looked like.  As we gushed about in the episode Jon Bogdanove was a master when it came to cityscapes and backgrounds and the back cover is a good example of that.
That's all for the DVD extras!  Now back to your normal episode post!
You can subscribe to the show in two ways. First there is the RSS Feed and there is also the iTunes link.
If you want to comment on the show or contact the hosts you can always private message Mike and Jeff, at the Superman Homepage, leave comments here or at the Homepage or here or email them by clicking this link.  All questions, concerns, fears, trepidations and cheap shots are welcome.
Next time: February 1994 continues with Adventures of Superman #509 and Action Comics #696!