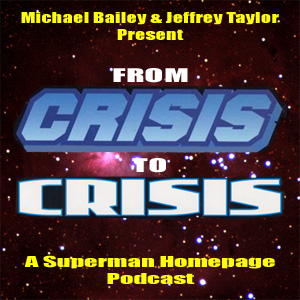 Welcome to the thirteenth episode of From Crisis to Crisis: A Superman Podcast! This podcast has a simple premise; examine just about every Superman comic published between Man of Steel #1 in 1986 to Adventures of Superman #649 in 2006 in an informative and hopefully entertaining format.
Part index. Part commentary. Part history lesson. All podcast.
This week Jeffrey and Michael delve into the Superman books that came out cover date October 1987, which meant they came out in July of that year. July 1987 was a big month for Superman. Not only did he have to contend with his powers going out of control and the gang war heating up in Metropolis but he also was also the victim of mind control by a being called Sleez and had to team up with Batman to deal with a vampire problem. To top it all off Superman IV: The Quest for Peace was released into theaters, which also meant a comic book adaptation. Mike and Jeff don't cover either of those in any great detail but they are worth a mention.
Michael would like to apologize for two small things this week the first being that he did not include the cover to Adventures of Superman Annual #1 in last week's graphic. It just slipped his mind. Also this week and last week the episode name kind of got messed up as far as the download is concerned, so if you play this on your iPod or Zune and it bears a different episode title that is the reason.
The appropriate punishment has been meted out. You can be assured of that.
You can subscribe to the show in two ways. First there is the RSS Feed and there is also theiTunes link .
If you want to comment on the show or contact the hosts you can always private message Mike and Jeff, at the Superman Homepage, leave comments here or at the Homepage or here or email them by clicking this link.  All questions, concerns, fears, trepidations and cheap shots are welcome. The guys will try to incorporate e-mails into the episodes once the show gets rolling.
Seriously, let us know what you think.