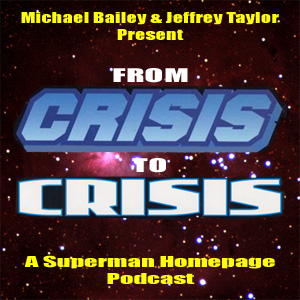 Episode 16: The Marv Wolfman Interview
Welcome to the sixteenth episode of From Crisis to Crisis: A Superman Podcast! This podcast has a simple premise; examine just about every Superman comic published between Man of Steel #1 in 1986 to Adventures of Superman #649 in 2006 in an informative and hopefully entertaining format.
Part index. Part commentary. Part history lesson. All podcast.
This week Michael and Jeffrey are both really happy to bring you the very first From Crisis to Crisis Pro Interview! A few weeks back the boys "sat down" with none other than Marv Wolfman, writer of the issues of Adventures of Superman they have been discussing for the past twelve or so episodes in addition to a lengthy run on the Pre-Crisis Superman as well as the Ruby Spears 1988 animated series. Marv was very gracious with his time and revealed a lot of the behind the scenes goings on during his time with the Man of Steel. Thrill to Marv talking about his Pre-Crisis work on Action Comics! Cheer at why he recast Lex Luthor as a ruthless businessman! Cry at the real reason he left Adventures of Superman after only one year! All of this and how the Garbage Pail Kids led to the 1988 Ruby Spears Superman series that aired on CBS.
Jeffrey and Michael would like to thank Marv Wolfman again for taking time out of his schedule to take part in this interview. It was a lot of fun, Marv. Thanks a bunch.
You can subscribe to the show in two ways. First there is the RSS Feed and there is also theiTunes link .
If you want to comment on the show or contact the hosts you can always private message Mike and Jeff, at the Superman Homepage, leave comments here or at the Homepage or here or email them by clicking this link.  All questions, concerns, fears, trepidations and cheap shots are welcome. The guys will try to incorporate e-mails into the episodes once the show gets rolling.
Seriously, let us know what you think.