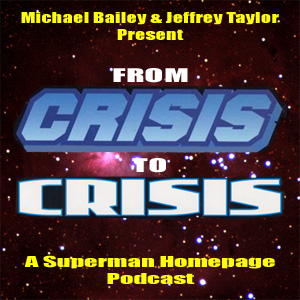 Welcome to the thirty-eighth episode of From Crisis to Crisis: A Superman Podcast! This podcast has a simple premise; examine just about every Superman comic published between Man of Steel #1 in 1986 to Adventures of Superman #649 in 2006 in an informative and hopefully entertaining format.
Part index. Part commentary. Part history lesson. All podcast.
Jeff and Mike are back this week to discuss the second month of the SUPERMAN IN EXILE story, which took place in the Superman books bearing the March 1989 cover date. The tales discussed this time out serve as a sequel of sorts to Adventures of Superman Annual #1, which was covered in episode 12 of this series. Superman #29 features the return of the Word Bringer and the events of that issue spill into Adventures of Superman #452. After that there's the Elsewhere in the DCU and the Elsewhere in the Real World feature followed by more of your e-mails.
During the e-mails a listener asks which episode of one of Mike's other podcasts (Views From The Longbox) was the one where Mike discusses Superman Returns. Mike promised to give out the episode number in these here notes so if you are interested in listening to that episode of Views  click right here for the episode information or head on over to iTunes and search for Michael Bailey's Views of the Longbox. Fair warning; that episode was more family friendly then others but Mike would like to throw out a parental guidance is suggested just in case.
Also check out Episode 47 of Views where Mike talks with Steve Younis and Neal Bailey of this very site.
You can subscribe to the show in two ways. First there is the RSS Feed and there is also theiTunes link .
If you want to comment on the show or contact the hosts you can always private message Mike and Jeff, at the Superman Homepage, leave comments here or at the Homepage or here or email them by clicking this link.  All questions, concerns, fears, trepidations and cheap shots are welcome. The guys will try to incorporate e-mails into the episodes once the show gets rolling.
Seriously, let us know what you think.