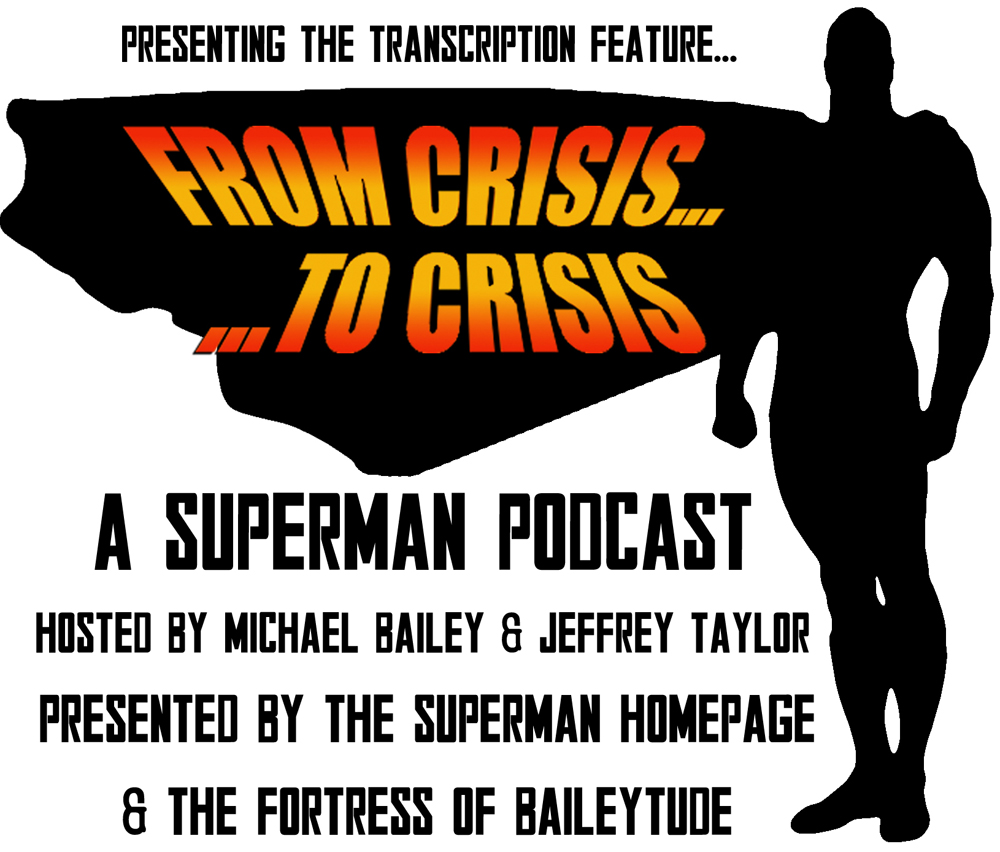 Welcome to From Crisis to Crisis: A Superman Podcast! This podcast has a simple premise; hosts Michael Bailey and Jeffrey Taylor examine just about every Superman comic published between Man of Steel #1 in 1986 to Adventures of Superman #649 in 2006 in an informative and hopefully entertaining format.
Part index. Part commentary. Part history lesson. All podcast.
So download…listen…enjoy.
Episode 1: Man of Steel Issues One and Two
Episode 2: Man of Steel Issues 3 thru 6
Episode 3: January 1987
Episode 4: February 1987
Episode 5: March 1987 — LEGENDS!
Episode 6: April 1987
Episode 7: May 1987
Episode 8: June 1987
Episode 9: July 1987
Episode 10: August 1987 Part 1
Episode 11: August 1987 Part 2
Episode 12: September 1987
Episode 13: October 1987
Episode 14: November 1987
Episode 15: December 1987
Episode 16: The Marv Wolfman Interview
Episode 17: World of Krypton
Episode 18: January 1988 — Millennium Part 1
Episode 19: February 1988 — Millennium Part 2ish
Episode 20: March 1988
Episode 21: April 1988
Episode 22: May 1988
Episode 23: World of Smallville
Episode 24: June 1988
Episode 25: July 1987
Episodes 1-25     Episodes 26-50     Episodes 51-75     Episodes 76-100
Episodes 101-125     Episodes 126-150     Episodes 151-175     Episodes 176-