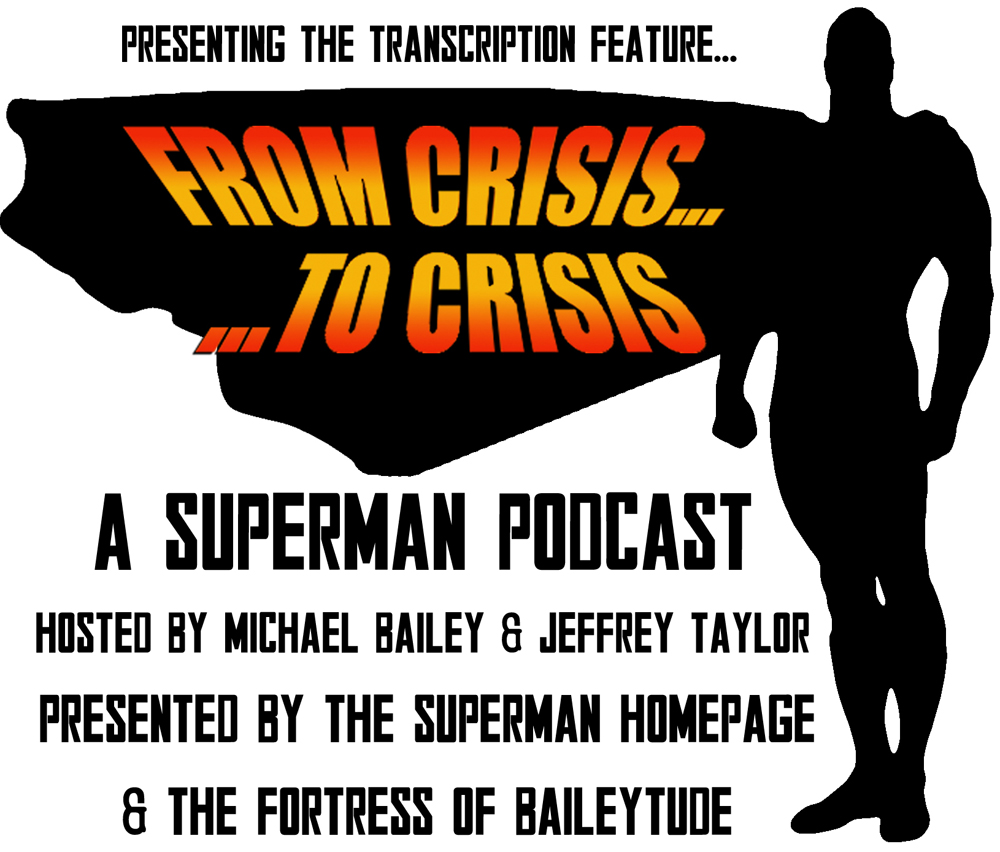 Welcome to From Crisis to Crisis: A Superman Podcast! This podcast has a simple premise; hosts Michael Bailey and Jeffrey Taylor examine just about every Superman comic published between Man of Steel #1 in 1986 to Adventures of Superman #649 in 2006 in an informative and hopefully entertaining format.
Part index. Part commentary. Part history lesson. All podcast.
So download…listen…enjoy.
Episode 126: Funeral For A Friend Part 3
Episode 127: Funeral For A Friend Part 4
Episode 128: Interlude Part 1
Episode 129: An FCTC Audio Commentary
Episode 130: Interlude Part 2
Episode 131: The Return?
Episode 132: Jerry Ordway Part 1
Episode 133: Jerry Ordway Part 2
Episode 134: Death of Superman E-Mails
Episode 135: Reign of the Supermen Part 1
Episode 136: Reign of the Supermen Part 2
Episode 137: Reign of the Supermen Part 3
Episode 138: Reign of the Supermen Part 4
Episode 139: Reign of the Supermen Part 5
Episode 140: Reign of the Supermen Part 6
Episode 141: Reign of the Supermen Part 7
Episode 142: Reign of the Supermen Part 8
Episode 143: Reign of the Supermen Part 9
Episode 144: Reign of the Supermen Part 10
Episode 145: Reign of the Supermen Part 11
Episode 146: Reign of the Supermen Epilogue
Episode 147: Death and Life Mailbag
Episode 148: Superman/Doomsday Movie Commentary
Episode 149: November 1993 Part 1
Episode 150: November 1993 Part 2
Episodes 1-25     Episodes 26-50     Episodes 51-75     Episodes 76-100
Episodes 101-125     Episodes 126-150     Episodes 151-175     Episodes 176-