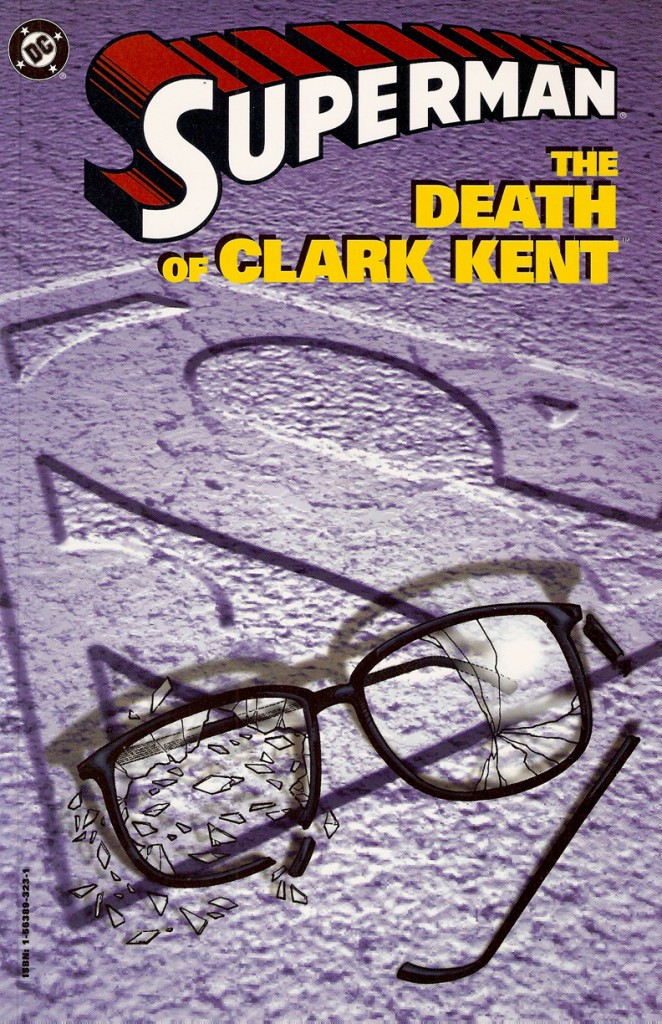 As many of you know I co-host a show called From Crisis to Crisis: A Superman Podcast with my buddy Jeffrey Taylor.  For the uninitiated FCTC covers, month by month, most of the Superman books published between lMan of Steel #1 in 1986 and Adventures of Superman #649 in 2006.  That's a huge chunk of time and some people have expressed a desire to follow along with us.  I was wondering how feasible it would be for someone that doesn't own  a complete run to find one or at the very least find most of them in trade.  I'm pretty sure if you had the time, money and energy you could do it, but it wouldn't be easy.
And that got me to thinking.
Since February of 2004 (release date not cover date) every mainstream Superman book (Superman, Adventures of Superman and Action Comics along with Superman/Batman) has been released as a collected edition of some sort.  Usually in hardcover at first and then in softcover and in the case of Brian Azzarello and Jim Lee's For Tomorrow even an Absolute Edition.  The Godfall arc, all of the Greg Rucka run on Adventures of Superman, the just mentioned For Tomorrow, all of Mark Verheiden's run on Superman, Chuck Austen's run on Action Comics, Gail Simone's work on Action Comics, Sacrifice, the Infinite Crisis crossovers, Up, Up and Away, Last Son, Camelot Falls Parts 1 and 2, the rest of Kurt Busiek's run, Superman and the Legion of Super-Heroes, Brainiac, The Coming of Atlas and right up to the current New Krypton stuff.  Five years worth of stories are pretty much all there give or take a once and done story here and there.  Someone getting into Superman today would have a very easy time getting caught up without having to track down the individual issues.
But what about that Crisis to Crisis era?
Well, the early stuff is pretty easy to find.  Superman: The Man of Steel Volumes 1 through 6 reprint Man of Steel and all of the main Superman books coming out at the time, including the annuals.  The next trade chronologically, Superman: Exile, jumps ahead about a year and reprints the Superman titles published from the end of 1988 to late spring of 1989 with the exception of a four part back up feature and issue 31 of Superman .  From there time leaps forwards more and more trade paperback wise.  Here is a list of the trades which reprint material from Superman, Adventures of Superman, Action Comics and/or Superman: The Man of Steel in chronological order.
Eradication (1990)
Krisis of the Krimson Kryptonite (1990)
Time and Time Again (1991)
They Saved Luthor's Brain (various)
Panic in the Sky (1992)
Death of Superman (1992)
World Without Superman/Funeral For a Friend (1992/93)
The Return of Superman/Reign of the Supermen (1993)
Bizarro's World (1994)
The Death of Clark Kent (1995)
The Trial of Superman (1995/96)
The Wedding and Beyond (1996)
Superman vs. the Revenge Squad (1996)
Superman Transformed! (1997)
No Limits (1999)
Endgame (1999)
Till Death Do Us Part (2000)
Critical Condition (2000)
Emperor Joker (2000)
President Lex (2000)
Return to Krypton (2001/2002)
Our Worlds at War (2001)
Superman: Ending Battle (2002)
That's an impressive list of collections by any stretch of the imagination and that doesn't even count the  plethora of Elseworlds and other type of mini-series that were traded over the years.  What is more impressive is that most of these came out during a time when trades and hardcovers were not as common in places like Barnes and Noble, Books-A-Million, Borders and so on as they are today.
For about five second this led me to the question, "Why isn't more of this era being reprinted?" but several reasons immediately sprang to mind.
1. Demand might not be there.

Sad to say as much as I love this era and as much as the six hundred or so people a week that listen to From Crisis to Crisis seem to also dig on this era that doesn't mean they would sell.  I'm pretty cool with that too.  It is very common in comic book fandom to have a small yet vocal group of people loudly demanding a certain product even though most of them may never even buy it if DC or Marvel did put it out.  I would like to see a comparison numbers wise between readers that say they want a particular trade versus those that would actually buy it.  No matter the case not everything is going to be collected into a trade paperback or hardcover just because someone thinks it should be.
2. It might be cost prohibitive to produce the trades.

Here's a fun bit of business posted by Robert Greenberger, former DC Collected Editions Editor, on to the DC Message Boards some years back.  Thanks to the defunct Earth-B for posting this so I could cut and paste.
DC pays a royalty based on a percentage of the cover price to writers, pencillers,and inkers to all material published prior to 1976 and after 1997. For the period in between, the vouchers that were in use called for a set reprint fee to be paid. In some cases, the amount of contractually obligated reprint fees makes the budget for a proposed collection unprofitable. In those cases, DC will either scrap the project or ask the talent involved to waive the reprint fee in lieu of the standard royalty arrangement. If the parties agree, then everyone benefits.
Essentially if a creator doesn't want to waive the reprint fee DC would then have to pay said creator a whole heck of a lot of money to publish the trade and I feel pretty confident in writing that DC wants to make as much money off their collected editions as possible and more power to them I say.  Capitalism rocks as far as I am concerned.  At the same time I understand a writer or artists wanting to get what is contractually due to them.  So until something drastic happens, and I don't foresee that coming to pass, there are going to be some books that will probably never get the trade paperback or hardcover of Absolute treatment.
Them's the breaks.
3. Do we really need all of that to be collected into a trade or hardcover?

A completest would say, "Hell yes we do!" but I am not so sure and most of that not being sure comes from a practical standpoint.  With the exception of Ending Battle I have every single trade listed above.  In fact I have five different editions of Man of Steel.  They don't take up a whole heck of a lot of space but when you add those to all of the Showcases, Chronicles, and other Superman collected editions and it is well over six feet of collected editions.  So bookshelf space is a factor.
And then there's cost.  Right now the average trade is $20.  That's a softcover, full color, no frills edition.  It took five trades to reprint all of 1987 Superman books.  So that's a hundred bucks on average.  Now let's assume that the following years of Superman stories (those published in 1988, 1989 and so on) would need six volumes apiece to collect everything factoring in the addition and subtraction of titles down the line.  19 years x 6 volumes = 114 volumes x $20 a pop = $2,280.  Now sure it would be easy for me someone to order and buy the volumes as they come out and maybe even use an online service like In Stock Trades which would save me them some cash to avoid having the shell all of that money out at once.  The question then becomes what would happen when someone picks up volume 97 and wants the previous 96?  Could they afford them and more importantly would they even be available?
4. Is it too paranoid to think that the current regime at DC wants us to forget that era of Superman?
Maybe a little bit and there are a few holes in my theory, namely they reprinted John Byrne and Mike Mignola's World of Krypton mini-series last year right around the same time they were pushing the New Krypton storyline.  Still, you have to wonder if maybe the current regime wants their version of the character to be the one that stays in prints through trades and hardcovers and let the Crisis to Crisis version waste away in back issue bins and eBay lots.
I am not saying this is the case.  I am simply putting forth the theory.
To quote George Carlin, "These are the things I think about when I'm sitting at home and the power goes out."
No matter the case I think two things are certain; only the really big Superman story lines from the past are going to get a full color collected edition (with the possible exception of the Chronicles line) and that anything coming out now is going to be in a collected edition micro-seconds after the last part of the story is published and collected in a variety of formats too and really there is nothing wrong with that.  It's the nature of the beast.  Frankly I think we're lucky to have what we have.
I also think I am lucky that I have purchased most of the trades listed above well after they were first published and because of that I can get them at deep, deep discounts.
What?  I'm cheap.  That's how it works.
More to follow…