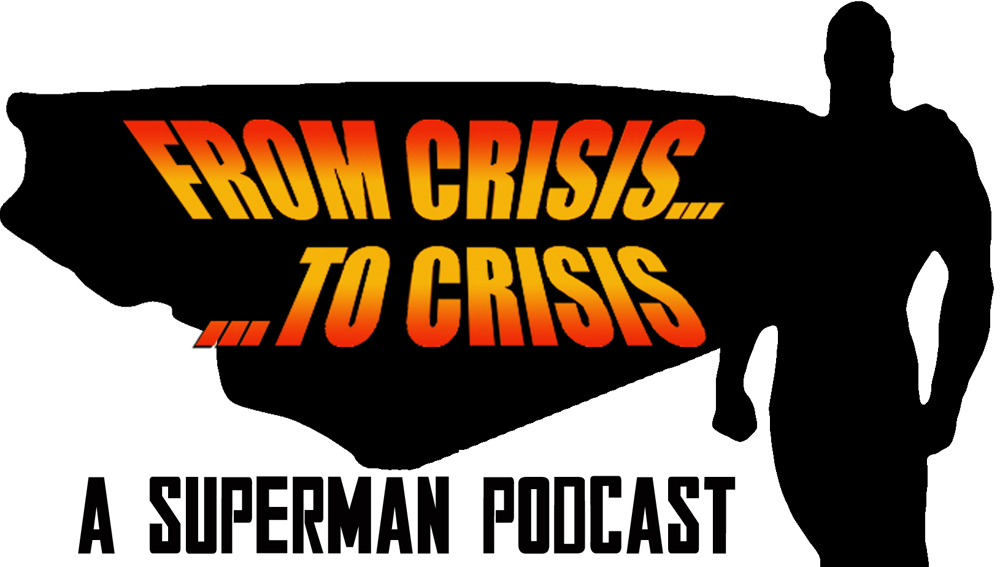 Welcome to the ninety-sixth episode of From Crisis to Crisis: A Superman Podcast!  This podcast has a simple premise; examine just about every Superman comic published between Man of Steel #1 in 1986 to Adventures of Superman #649 in 2006 in an informative and hopefully entertaining format.
Part index.  Part commentary.  Part history lesson.  All podcast.
Welcome to a horrendously long episode of From Crisis to Crisis.  Normally Mike and Jeff like to keep the show at the hour and a half/two hour mark.  This time out, however, the episode is nearly three hours long.  You could blame this on their guest, Jon M. Wilson, but the fact that the boys decided to break format this week and do not two but THREE different comics played a part as well.
Why three comics?  Well, next week marks Superman's inclusion into the Justice League and that means Jeff and Mike are going to start covering Justice League America.  However, there was a Justice League special before that, so this week you are getting three of the regular Superman titles and next week you get two Justice League related comics and the final Superman book all with a cover date of April 1992!
Panic in the Sky concludes this week in two and a half issues.  Why two and a half?  Because the final book the boys and Jon discuss has only a little to do with Panic in the Sky.  In Superman: The Man of Steel #10 one of the heroes sacrifices himself and leads to a lengthy debate about characterization and set-up.  Superman #66 sees the heroes make their final stand against Brainiac and you will be surprised at who actually brings the villain down.  Finally in Adventures of Superman #489 Panic in the Sky officially ends…ten pages in.  The rest of the issue sets up yet another story with Professor Hamilton finally getting around to helping Husque and his sister after remembering his vow to do so.  There is also a neat revelation about the collected edition of Panic in the Sky.  After that there is some Adventures of Superboy television talk and what else was going on in the world around the time these comics were on the stands.
You can subscribe to the show in two ways. First there is the RSS Feed and there is also the iTunes link. Are you on Facebook? Be sure to "like" the official FCTC page, which you can find by clicking on this link.
If you want to comment on the show or contact the hosts you can always private message Mike and Jeff, at the Superman Homepage, leave comments here or at the Homepage or here or email them by clicking this link. All questions, concerns, fears, trepidations and cheap shots are welcome.
NEXT WEEK: Justice, Action and Justice again!  Plus Jon Wilson returns.