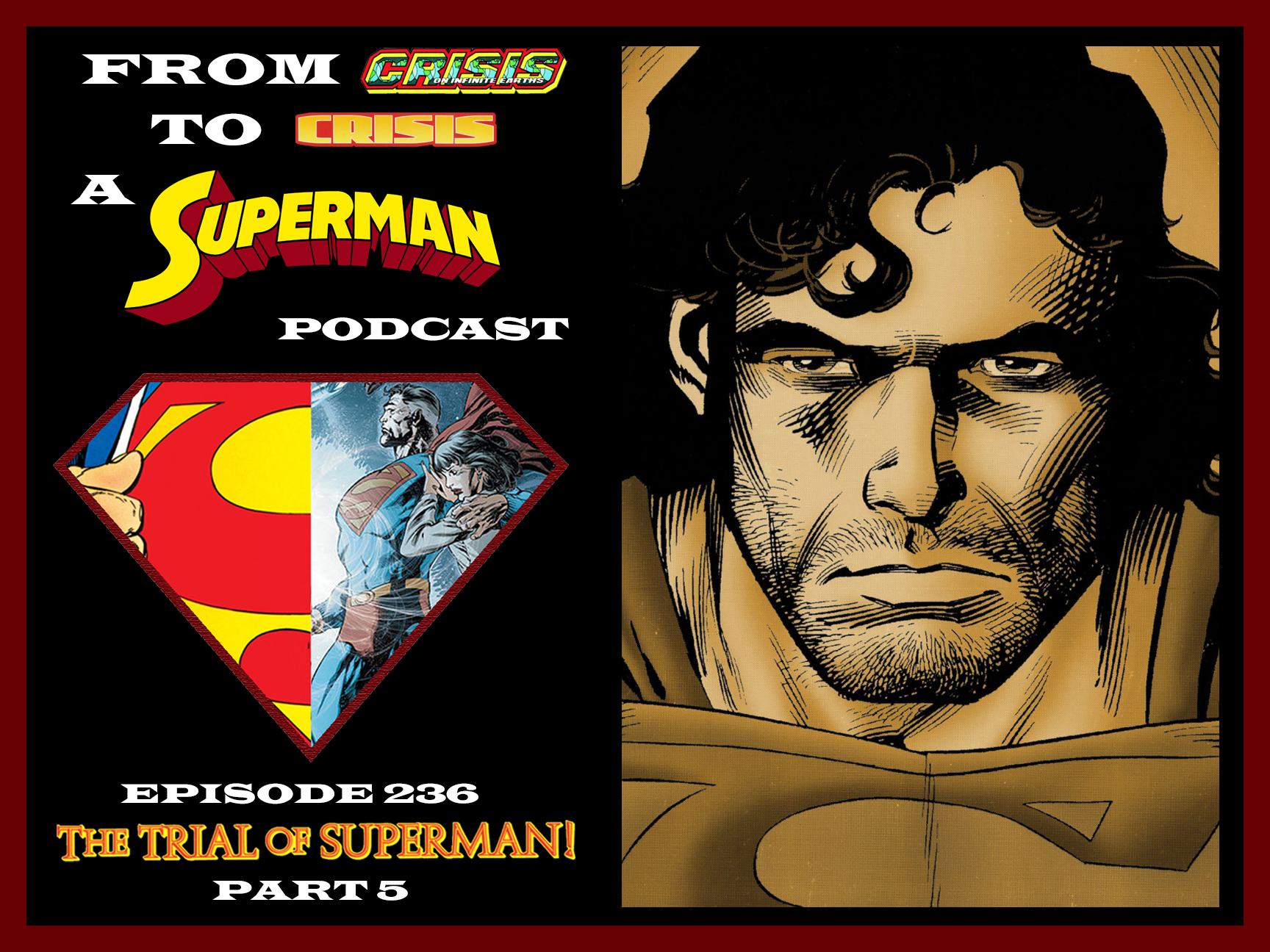 Episode 236: The Trial of Superman Part 5
Welcome to the two hundredth and thirty-sixth episode of From Crisis to Crisis: A Superman Podcast!  This podcast has a simple premise; examine just about every Superman comic published between Man of Steel #1 in 1986 to Adventures of Superman #649 in 2006 in an informative and hopefully entertaining format.
At last…it's 1996!
That's right, folks!  Mike and Jeff have finally…after several years…and several hiatuses…gotten to cover date 1996.  And since calendars are a thing they start with January 1996.  They also continue their examination of The Trial of Superman.  First up is Action Comics #717, where Superman and the Cyborg go at it for most of the issue, but that's not a bad thing because the fight is cool.  Then, in Superman: The Man of Steel #52, Superman is once again brought before The Tribunal, but this is short lived as Superman busts loose, fights the Cyborg again, and Team Superman gets in on the action.
After that is…well, that's pretty much it.  Normally Jeff would lead us through the Meanwhile, At The Daily Planet segment, but with Mike shaking up the format (buckle in, because he's not done yet) things got jumbled.  So, you'll get the revamped and renamed Wha' Happened? Segment next time.  In its place, Jeff turns the Final Thought segment over to Michael and he talks about why he liked the CW's Crisis on Infinite Earths better than the MCU's Avengers: Endgame.
Things go smoother with the February 1996 books.  Promise.
Below are the covers and selected pages from the books discussed in this episode.
You can subscribe or listen to the show in a variety of ways. First there is the RSS Feed and then there is the Apple Podcasts link.  You can also find the show on Spotify and the Google Play Store.  Are you on Facebook? Be sure to "like" the official FCTC page, which you can find by clicking on this link.  You can email the show by clicking this link. All questions, concerns, fears, trepidations and cheap shots are welcome.  Also be sure to give us a review over on iTunes and feel free to comment on the show here at the site!
Next Time: The Trial of Superman concludes with Superman #108 and Adventures of Superman #531.  Plus, the previously mentioned Wha' Happened? segment and the Elsewhere in the DCU segment, where the boys talk about the Superman family titles that came out this cover month and the DCU as a whole!