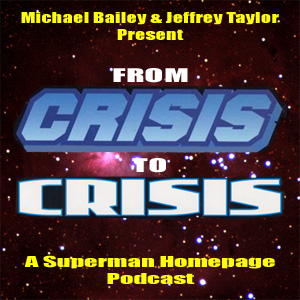 Welcome to the twenty-seventh episode of From Crisis to Crisis: A Superman Podcast!  This podcast has a simple premise; examine just about every Superman comic published between Man of Steel #1 in 1986 to Adventures of Superman #649 in 2006 in an informative and hopefully entertaining format.
Part index.  Part commentary.  Part history lesson.  All podcast.
Michael and Jeffrey begin their discussion of what is quite possibly the most important storyline to hit the Superman books since Man of Steel.  The Supergirl Saga Parts 1 and 2 went down in the books with the cover date September 1988 and while it marked the beginning of the end of the John Byrne era of Superman it also marks the beginning of one of the bests runs of Superman ever.
Yes, we're biased here.
In addition to giving you the lowdown on just who the mysterious Supergirl that has been popping  up over the past few months is and calling back to the story that went down in Superman #8 and Action Comics #591 Mike and Jeff also give in to listener demand and somewhat begrudgingly discuss Superman: The Earth Stealers.
No e-mails this week but they will return next time.
You can subscribe to the show in two ways. First there is the RSS Feed and there is also theiTunes link .
If you want to comment on the show or contact the hosts you can always private message Mike and Jeff, at the Superman Homepage, leave comments here or at the Homepage or here or email them by clicking this link.  All questions, concerns, fears, trepidations and cheap shots are welcome. The guys will try to incorporate e-mails into the episodes once the show gets rolling.
Seriously, let us know what you think.