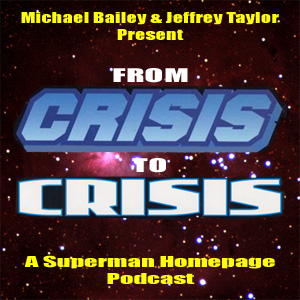 Episode 44: Action Comics Weekly and Lex Luthor: The Unauthorized Biography
Welcome to the forty-fourth episode of From Crisis to Crisis: A Superman Podcast! This podcast has a simple premise; examine just about every Superman comic published between Man of Steel #1 in 1986 to Adventures of Superman #649 in 2006 in an informative and hopefully entertaining format.
Part index. Part commentary. Part history lesson. All podcast.
This week Mike and Jeff take another side trip from the month to month "grind" by discussing the Superman stories from Action Comics Weekly and Lex Luthor: The Unauthorized Biography. In Action Comics Weekly Superman has to deal with a religious order that looks to him as their deity. Lex Luthor: The Unauthorized Biography tells the story of Peter Sands, a down on his luck reporter that gets the story of a lifetime, though he may not stay alive long enough to tell it. No Elsewhere features this week though the guys do read a few reader e-mails.
Next week; the return of an old threat and the final fate of Matrix.
You can subscribe to the show in two ways. First there is the RSS Feed and there is also the iTunes link .
If you want to comment on the show or contact the hosts you can always private message Mike and Jeff, at the Superman Homepage, leave comments here or at the Homepage or here or email them by clicking this link.  All questions, concerns, fears, trepidations and cheap shots are welcome. The guys will try to incorporate e-mails into the episodes once the show gets rolling.
Seriously, let us know what you think.