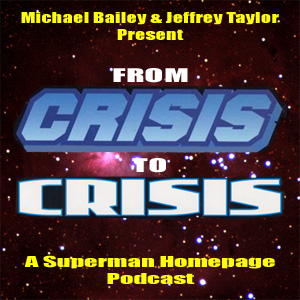 Episode 29: World of Metropolis
Welcome to the twenty-ninth episode of From Crisis to Crisis: A Superman Podcast! This podcast has a simple premise; examine just about every Superman comic published between Man of Steel #1 in 1986 to Adventures of Superman #649 in 2006 in an informative and hopefully entertaining format.
Part index. Part commentary. Part history lesson. All podcast.
Jeffrey and Michael have a special guest on this week to discuss the last of the Superman "World Of" mini-series. Fellow Superman Homepage staffer James Lantz joins the guys to discuss World of Metropolis and a good time seemed to be had by all. This mini-series showcased the supporting cast in addition to showing an untold tale of Clark Kent's past. See Perry White return to Metropolis and confront Lex Luthor! Thrill to Lois as a fifteen year old sneaking into Lexcorp headquarters only to be caught in the act! Learn how Clark managed to enroll at Metropolis University and cheer as Jimmy is forced to cobble together a familiar time piece to save his friend.
All of this in only one hour and forty five minutes. How do they do it?
You can subscribe to the show in two ways. First there is the RSS Feed and there is also theiTunes link .
If you want to comment on the show or contact the hosts you can always private message Mike and Jeff, at the Superman Homepage, leave comments here or at the Homepage or here or email them by clicking this link.  All questions, concerns, fears, trepidations and cheap shots are welcome. The guys will try to incorporate e-mails into the episodes once the show gets rolling.
Seriously, let us know what you think.