It is very rare that I get an actual written request to cover a particular bit of business here at the Fortress, but today's post is the result of exactly that.  I would love to sit here and thank the guy that wrote in and asked me to talk about this omnibus but I can't find the e-mail to save my life.  I also wanted to apologize because I am pretty sure the person that wrote in wanted me to talk in glowing terms about this book and…well…you'll soon see that I can't do that.  There have been very few moments in my comic book collecting life where I REALLY looked forward to something and was disappointed when it finally came out to the degree that I actually felt let down by the comic or comic related item I was looking forward to.
The Death and Return of Superman Omnibus was one of those times.
Back in 2007 I was sixteen different kinds of excited when DC revealed in their monthly solicitations that they were going to release this book.  Not only was this one of the biggest Superman stories ever it was also one of the most pivotal moments in my time as a Superman fan.  For once my sixteen year old self felt like I was there before…well, not everyone else because obviously there were a lot of other people buying the Superman books at the time, but as I was the one Superman fan amongst the comic collectors I knew it was a pretty big deal that I didn't have to fight through crowds to get a copy of the death issues.  It meant something to me on a personal level that DC decided to collect the entire saga under one cover just in time for its fifteenth anniversary.
The list price for this omnibus was seventy-five dollars and I didn't even hesitate.  Sure I was going to get a ten percent discount through the comic shop I went to but that's still seventy-some odd dollars with tax, which was and is a lot of money to plunk down for a book.  The Wednesday it came out I went to the comic shop, paid for it (and the other books I was getting that week), looked at the cover and it was at that exact moment that the disappointment really began.
There was an ad…on the dust jacket.
Not on the plastic that was shrink wrapped around the book which would, you know, make sense.  No.  It's right there…on the dust jacket.
I remember some people at the shop wondering why this pissed me off so much.  There is are very few things more infuriating in life than someone looking at you when you are angry about something and going, "What's the big deal?"  That just gets to me on a deep and personal level.  If whatever I am pissed at doesn't bug you that's fine.  Don't look at me like I'm the idiot when something irks me.  It's rude, especially when I have a reason for being upset.
…
Oh, you want to know why I was so upset?  Okay.  I can answer that.
There are two reasons the ad on this omnibus made me see red.  The first and most basic is that it is ugly.  You have this beautiful Jurgens and Ordway cover and instead of creating a little sticker to put on the shrink wrap the artwork is marred by Warner Premiere shilling their first ever Direct-to-DVD animated movie. I am all about some commercialism but there is a time and a place and that place is not on the freaking dust jacket.  I understand that you are trying to convince the person picking this book up at Barnes and Noble or Books-A-Million to also buy the DVD.  Someone in your marketing department should have come up with a better way to do it.
This leads into my biggest problem with the ad and that is the hype surrounding the release of the Superman: Doomsday DVD is going to die down soon after the movie comes out.  I am not trying to demean the movie as I rather liked it but that film or any film for that matter is only big news to Warner Bros. and DC Comics until the next movie is coming out.  This book has a much longer shelf life.  Two, three, now five years later someone can pick this up new and that ad is still going to be there on the cover like the biggest, ugliest pimple you ever had.  You know the one I'm talking about.  It's the one that won't respond to any kind of soap or medicine and doesn't have a definable head so you can't pop it so it just sits on your face…judging you…mocking you…making you feel conspicuous.
Okay…that might have been going too far but I think you get my point.  The hype for a movie is limited…a collected edition…not as much.
Besides, I was going to buy the damn DVD anyway and I have a feeling that if someone was picking up this omnibus that it isn't a stretch to assume that they were going to get the movie as well.
And to be fair, you can take the dust jacket off is you really want to appreciate the cover art.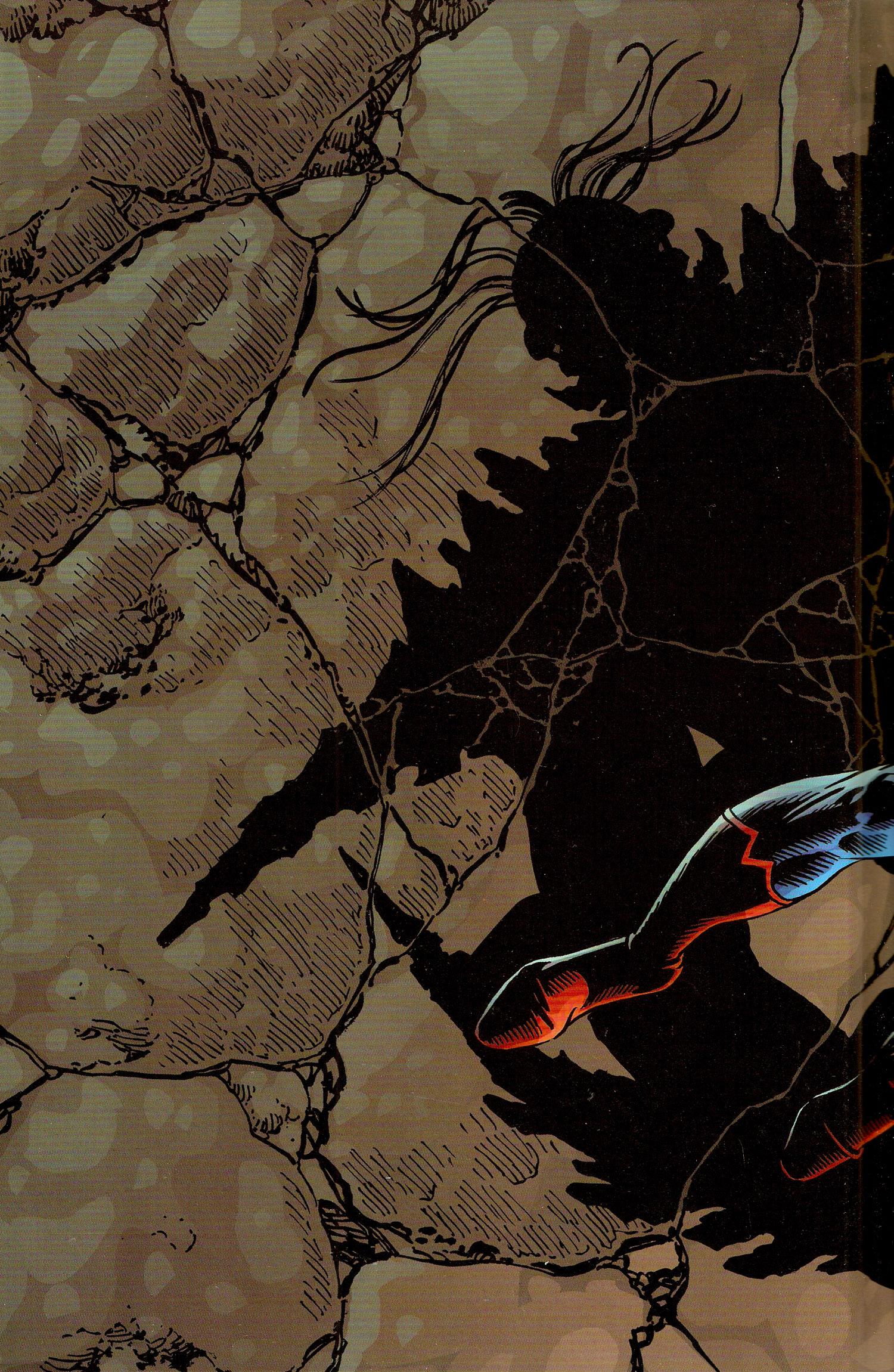 So eventually my wife talked me off the bell tower, I surrendered my rifle and got down to the business of reading this book.
And then I got pissed off all over again.
If there is one thing I want people to take away from the entire Death and Return of Superman saga it's that while Doomsday (Act I) is a great fight and has a dramatic ending and that Reign of the Supermen (Act III) is a huge action piece with some fantastic new heroes/villains and truly shocking moments that will make you feel something for the characters involved Funeral For a Friend (Act II) is the heart and soul of the story.  The writers, artists and editors that worked on this storyline knew that killing Superman was not a story in and of itself.  What happens next, that's the story and Funeral was where Superman's family, friends and foes dealt with his passing.  Without Funeral you have some fun comics but the emotional core of the piece is gone.
Having written all of that you can imagine why the "raging fury" returned when I realized that they didn't just cut out a page or two of Funeral For a Friend…they cut out whole freaking issues.  I was more than a little confused by this.  I figured if the thing is called an omnibus that it would print everything.  After doing some digging (i.e. typing the word "omnibus" into some dictionary sites) I soon found out this was not the case and that my perception of what an omnibus is comes from a whole lot of assumption based on past collected editions that were called omnibuses.  Still, it's kind of annoying that something that bills itself as "…the definitive word on the greatest saga of the Last Son of Krypton!" would eliminate scenes and issues in favor of forty pages of background material.  To be fair maybe there might have been behind-the-scenes factors that we're not privy to but as a fan of this story and character it was really disappointing.
The break down of what is cut out of Funeral For a Friend goes like this:
Adventures of Superman #498: Pages 10, 11 and 13 deleted.
Action Comics #685: Pages 1-8, 13 and 15-22 deleted.
Superman: The Man of Steel #20: Pages 1, 2, 9 and 11 are not in the omnibus.
Superman #76: Pages 1-6, 9-14 and 16-22 are absent.
Adventures of Superman #499: Not reprinted at all.
Action Comics #686: Again, not reprinted at all.
Superman: The Man of Steel #21: Pages 1-3, 6, 9-14 and 16-21 are deleted.
Superman #78: Pages 1-4, 11-16, 17-20 and a panel from page 21 are missing.
Now here is where things get a little strange.  When DC originally published Adventures of Superman #500 it came in two editions; a bagged copy meant for comic shops and the collector market and a newsstand copy meant for wider distribution.  The bagged copy had eight additional pages of story that weren't in the newsstand edition, which you can see by clicking here, here, here and here.  Pages 6-13, 17 thru 21 and 34 of Adventures of Superman #500 are all cut out of the omnibus.  Pages 26, 27, 31, 36, 37 and 41, which were up to this point exclusive to the bagged edition, are in the omnibus.  So they cut out fourteen pages of the main story but added six back in.  That's kind of weird, especially when you consider that those eight extra pages aren't even in the World Without a Superman trade paperback.
For those paying extra close attention the Reign of the Supermen issues are pretty much intact and seems to be everything you would find the Return of Superman trade paperback.
So with all the pages and issues that the powers that be decided to cut out the question becomes what made up the previously mentioned forty pages of extras?  The break down for that is as follows:
An introduction by Mike Carlin.
An afterword by Dan Jurgens.
A cover gallery.
Memories of the story written by Dan Jurgens, Louise Simonson, Jerry Ordway, Karl Kesel, Jon Bogdanove, Roger Stern and Brett Breeding.
A gallery of the DC Direct action figure line and the action figure line tied into the Superman: Doomsday DVD.
A picture of the Superman/Doomsday bookends set that I desperately want.
Character sketches with notes.  This is interesting because it confirms that Superman wasn't supposed to have long hair at first.  That was something that was added later mainly to show that something had changed but also because Dean Cain's Clark Kent had longer hair in the pilot to Lois and Clark: The New Adventures of Superman.
Reprints of the obituary from the bagged edition of Superman #75 and the National Whisper faux newspaper that DC put out to advertise Reign of the Supermen.  If you are curious you can see a high resolution scan of the obit here and the National Whisper piece here.
Advertising artwork, covers, posters and other bits of business from the Superman/Doomsday: Hunter/Prey series that would come out in 1994.
A small section of the breakdown charts the creative team used to plan out the death of Superman.
To be fair, the extras are quite cool and I liked seeing them quite a bit.  It was just really disappointing to not have the whole saga in one book.  In the interest of being fair, which I seem to be doing a lot in this post, it's not like DC was trying to pull one over on us with the missing pages.  Again, there might have been behind the scenes stuff going on that we are not and in all honesty shouldn't be privy to that dictated those pages coming out.  Maybe it was a trade off between those pages and the extras.  Whatever the case it was still cool that DC put this omnibus out.  Recently solicitations show that another version of an omnibus is coming out with a higher page count than this one, so fingers crossed that the new omnibus has everything.  I haven't decided if I am going to buy it yet.  While I am not opposed to buying multiple copies of a particular trade (I have all of the various trade paperback printings of John Byrne's Man of Steel) this one is a bit pricey.  I'll have to think this one over.
And with that, faithful reader, I am closing the books on the constant Death and Return of Superman coverage.  It has been a wild nine months.  There were periods of frantic activity and there were long stretches where I didn't post anything.  While I am certain that there were plenty of things I missed I feel like I did everything I set out to do.  Starting on Monday I'll be returning to normal Superman coverage though you can expect a lot of bits of business from the nineties to be popping up in the weeks and months to come.  I want to thank everyone that commented on these posts both here and on Facebook.  That sort of thing means a lot to me.  As always…
More to follow…