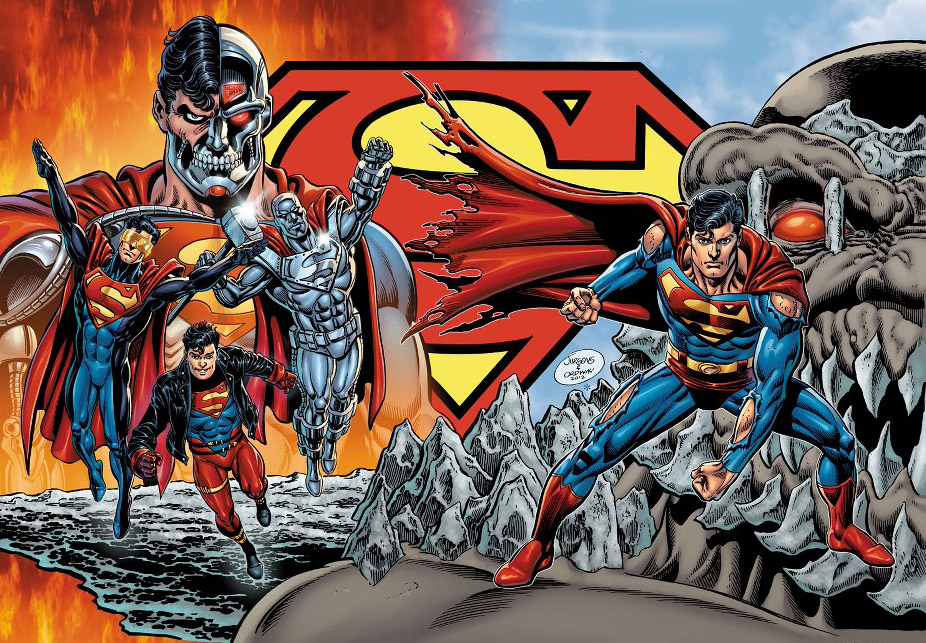 This section of the Fortress is meant to serve as a hub for all of the posts I have done concerning The Death and Return of Superman.  To say that I am a fan of this story is a gross understatement and between the Fortress and From Crisis to Crisis (the podcast I host with my friend Jeffrey Taylor) I have spent a lot of time covering Superman's death and resurrection and I thought it might be a good idea to organize the various articles and images and other bits of business that I have posted over the years into one place to make it easier for those that want to check them out to…well, to check them out.  So enjoy the posts and comment if the mood strikes you.
Fortress Original Pieces

Newspaper Articles
Interviews
Magazine Coverage
Magazine Cover Gallery
Videos
Solicitations For The Issues
Direct Currents
"Deleted" Scenes From Adventures of Superman #500
Adventures of Superman #500 came out in two editions; a newsstand edition and then a bagged collector's edition.  It was a lot like Superman #75 except with less bells and whistles inside the bag.  What it did have was eight additional pages of story that were ostensibly splash pages and designed to fit into the story if they were included but you really wouldn't notice if they were removed.  Oddly enough the people that make such decisions did not renumber the pages in the newsstand edition which was so subtle I didn't notice it until 2012.  They weren't included in the World Without a Superman trade but a few of those pages were included in the first Death and Return Omnibus.  As of this writing I have not bought the second omnibus but if and when I do I will update this paragraph to reflect that.  If I remember to at least.
Here are the pages.

From Crisis to Crisis: The Death and Return Episodes

Remember when I said that I co-hosted a Superman podcast with my friend Jeffrey Taylor?  Well we spent the better part of a year covering this story from top to bottom.  The comics, the novelizations, the trading card sets, the BBC audio adaptation…all of it.  We even did a commentary for the 2007 animated film.  Here is a handy shortcut to those episodes.
Superman: Doomsday and Beyond Artwork
Superman: Doomsday and Beyond was the Young Adult novelization of the whole Death and Return saga.  The cover (which you can see below in the Cover Gallery) featured the first professional Superman artwork done by Alex Ross and looked a lot like this.
Inside were 13 pieces of art (and 1 subscription ad) done exclusively for this novelization drawn by Dan Jurgens and Jose Luis Garcia-Lopez (praise be his name).  I had an extra copy of this book lying around so I chopped off the spine and scanned hi-res images of those pieces of artwork.  Enjoy.

Death and Return House and Other Ads

Merchandise
Trading Cards and SkyCaps

Cover Gallery