Season 3 Episode 4 – Too Close to Home or Excuse Me, Sir, Would You Care To Step Outside?
This time out The BAM Crew (Bethany, Alison, and Michael) talk about the fourth episode of Superman and Lois Season 3. Too Close To Home had a lot going for it. Kyle going back and forth between Lana and Sarah after the incident from the previous episode. John Henry Irons not only meeting the alternate Earth version of his sister but having a tense confrontation with Mannheim. Jordan being mad about Sam manipulating him into possibly getting a hair cut.
But the bulk of the episode is spent discussing the scene at the diner, which Mike watched over and over again like he was examing the Zapruder film and will live rent free in his head forever. The Crew examines the scene from every angle from Clark's motivations to Kyle being a good Dad and friend to Lana's reaction to the reaction of the guy eating right in front of where Clark is standing at the end of the altercation.
Michael is writing the reviews for Superman and Lois over on The Superman Homepage.  Check out his review for Too Close to Home by clicking here.
Finally, go and check out Alison's podcasting efforts over on The GeekCast Radio Network!  She co-hosted So You Wanna Be A Hawkeye series and you can find the first epiosde of that by clicking here.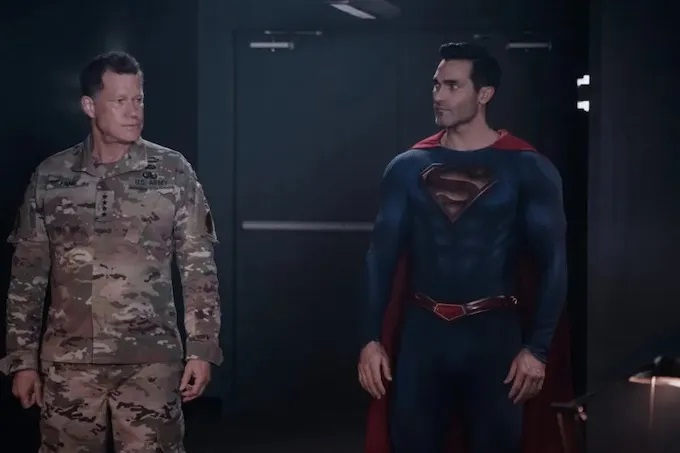 The Superman and Lois Tapes can be found on both Apple Podcasts and Spotify. The show can be reached by email at thesupermanandloistapes@gmail.com. You can also leave comments here or over at the Facebook page for the show, which you can get to by clicking this link.
The main theme for the show is "Heroes" by the awesome Mike Schmidt. You can find his work over at Speed Force Music.
Next Time: The Crew will be back to talk about the fifth episode of Superman and Lois Season Three titled Head On!