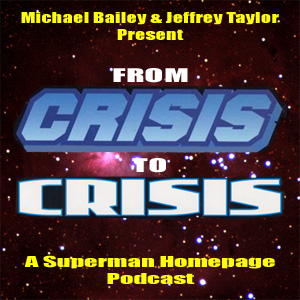 Welcome to the fifteenth episode of From Crisis to Crisis: A Superman Podcast!  This podcast has a simple premise; examine just about every Superman comic published between Man of Steel #1 in 1986 to Adventures of Superman #649 in 2006 in an informative and hopefully entertaining format.
Part index.  Part commentary.  Part history lesson.  All podcast.
This week Jeffrey and Michael close out comic book year 1987 with three fairly good stories.  No annuals or crossovers this week but the boys do delve into Clark's first love (which Mike thinks is a little "fishy"), the end of the Circle storyline and the death of Superman with a mysterious guest-star (hint: he's dead as of this writing and has a Black Lantern ring).  All of this, plus hints of the Millennium event to come and the announcement of the writer Michael and Jeffrey got to "sit down" with for next week's episode.  Yes, From Crisis to Crisis has pulled off it's first interview, but you have to wait seven days for that and the end of the episode to find out just who the "lucky" writer is.
You can subscribe to the show in two ways. First there is the RSS Feed and there is also theiTunes link .
If you want to comment on the show or contact the hosts you can always private message Mike and Jeff, at the Superman Homepage, leave comments here or at the Homepage or here or email them by clicking this link.  All questions, concerns, fears, trepidations and cheap shots are welcome. The guys will try to incorporate e-mails into the episodes once the show gets rolling.
Seriously, let us know what you think.