Normally this is where you be reading about what Who's Who Classic is and which character I am posting the entry for and all that jazz but that's not happening this time.  This time I am posting a Who's Who entry that might have…wait…back up…scratch that…like this…SHOULD have been.
While it is a horrible misuse of the word "tragedy" it is a tragedy that in the original run of Who's Who: The Definitive Directory of the DC Universe the Earth-One version of Superman never got an entry.  It's one of those things that sticks in the collective craw of Superman and Who's Who fans.  I happen to be one of them.  I realize that DC wanted to push the new Superman that was finishing up his new origin around the time the twenty-second issue of Who's Who hit the stands so I really can't hold too much of a grudge.  And to be fair the cover was awesome.
(Image courtesy of me downloading it from Shag's Firestorm Fan site and re-uploading it here because hot linking is for suckers.)
Thankfully fandom steps in and fills the gap once again.  Xum Yukinori put together an Earth-1 Superman Who's Who entry and it…is…awesome.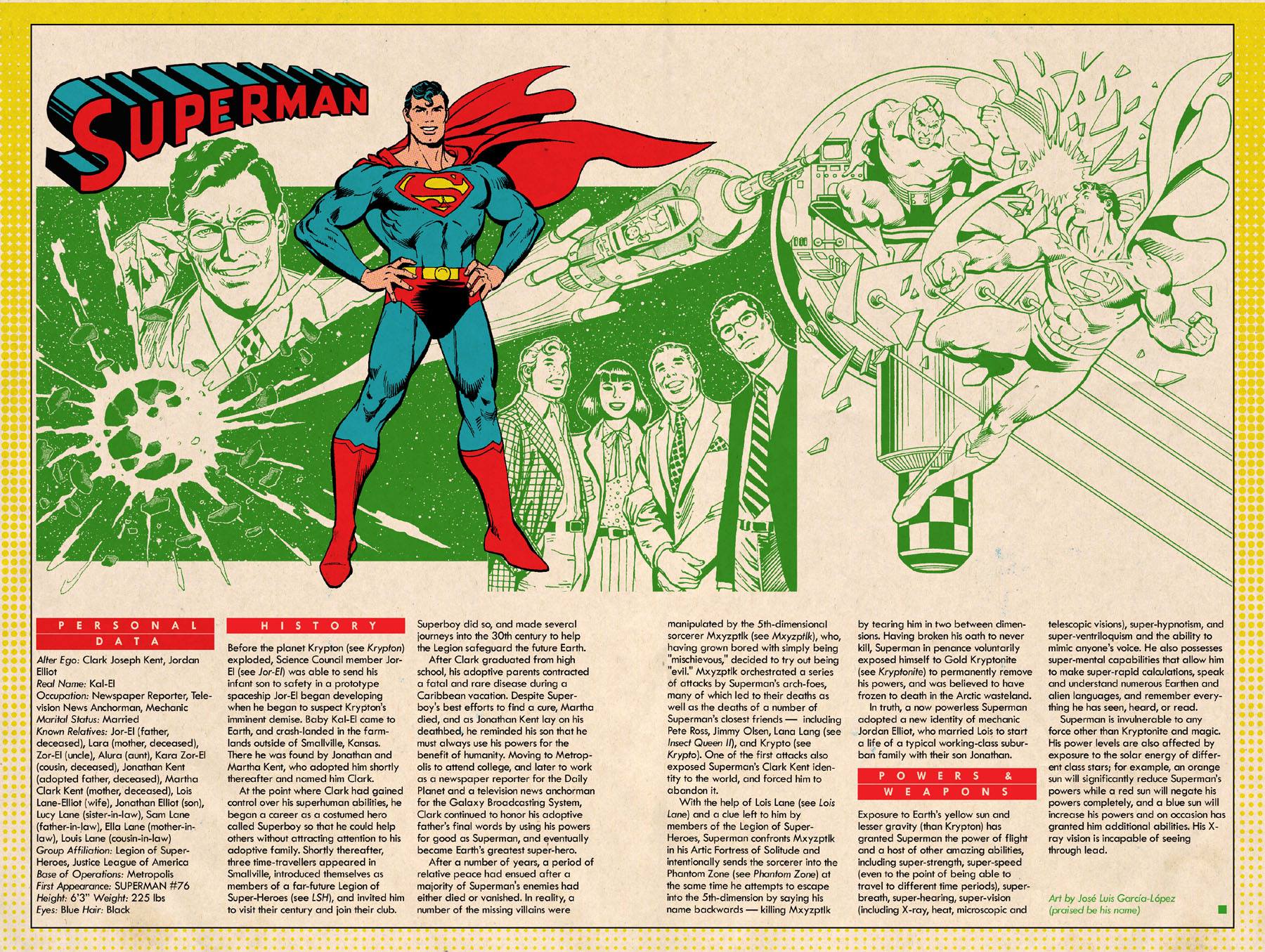 I honestly think that the entry speaks for itself, so there isn't a whole lot I can add to it.  The mixing of several different sources and the addition of the events of Whatever Happened To The Man of Tomorrow combined with the gorgeous Jose Luis Garcia-Lopez (praise be his name) art work and the little details (like the fading yellow dots) makes for something that looks authentic.  It almost make you want them to reprint the original Who's Who and sneak this in though I have read where some people have put it into their digital copy of the book.
So thank you, Xum, because this put a big ol' smile on my face.
If you would like to hear a fun discussion about this entry and all of the other entries in Who's Who #22 be sure to check out the 22nd episode of Who's Who: The Definitive Podcast of the DC Universe, which you can find by clicking on this link.  It's a fantastic show and I was lucky to be on this particular episode for a bit to talk about the Superman entries.  Many, many thanks to Rob Kelly and the Irredeemable Shag for having me on and for putting out a show that has become my monthly reaffirmation of how much of a DC Comics guy I am.